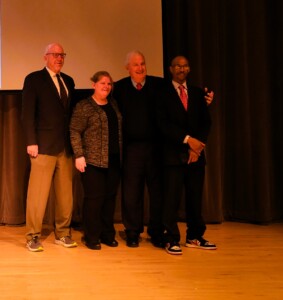 John Hanlon, Kristine Bunch, Steven Beckett and Patrick Pursley
Kristine Bunch and Patrick Pursley share a common bond, forged by decades in prison for crimes they did not commit, and their eventual exonerations that allowed them to share their stories this week with an audience at Heartland Community College.
"Justice Denied" was moderated by John Hanlon, former director of the Illinois Innocence Project, and Steven Beckett, former University of Illinois College of Law professor and defense attorney who has worked on wrongful conviction cases.
Pursley served 25 years for murder in a 1993 Rockford case. At his trial, the state relied on an opinion from a state firearms and toolmark examiner who testified that bullets and cartridge casings from the crime scene matched to a .9mm owned by Pursley "to the exclusion of all other firearms."
Pursley recalled comments from the judge who rejected the death penalty before he sentenced the defendant to life behind bars: "you are a menace to society."
Once he arrived at the Stateville Correctional Center, Pursley went to work in the law library of the aging facility known for its mold, poor water quality and roaches. He wrote letters to lawyers who might be willing to help with an appeal. He worked to draft new legislation on ballistics testing, despite his low expectations for success.
"Negroes in prison don't get laws changed in the United States," Pursley told the audience.
The legal documents and paperwork packed in boxes in his cell reached a height of six feet in the years after his conviction.  Success, Pursley knew, turned on passage of an amendment to state law that would allow defendants to seek a comparison of test fired evidence and crime scene ballistics evidence with digital images of ballistic evidence in a national databased, the National Integrated Ballistics Identification Network (NIBIN).
In 2007, former Illinois Governor Blagojevich signed into law the amendment drafted by Pursley and advocates outside the prison.
The letter writing campaign paid off, too. After years of writing to lawyers – "I only needed one yes"—Pursley's case was accepted by Northwestern University's Center on Wrongful Convictions.
In 2011, the Illinois State Police was ordered to compare the ballistics evidence from the case with the national database.  The conclusion: neither the bullets nor cartridge casings from the crime scene came from Pursley's gun.  A new trial was ordered. On the third day of his bench trial, Pursley was acquitted on Jan. 16, 2019.
"It takes years and years for this process," said Pursley.
Kristine Bunch was living in Indiana with her 3-year-old son Tony in 1995 when she woke up to a house filled with smoke and flames. Halted by the fire that was well on its way to consuming the home, she was unable to reach her son's bedroom. She ran outside where she used her son's tricycle to break his bedroom window before neighbors held her back from trying to re-enter the house.
Before leaving the scene in an ambulance, Bunch was assured that her son had been found.
But Bunch's father delivered the somber news a short time later that Tony had died. Police came to the hospital seeking a statement from Bunch, a request her father denied because of her emotional and physical condition. Two hours later, said Bunch, investigators returned to the hospital to inform her that the fire was arson.  They wanted a list of people who had visited her home.
"Everyone I knew was a suspect," said Bunch, including close family and friends.
After the hospital, Bunch went to the home of her son's babysitter, a place she could sit with his remaining possessions.
When she went to the police station to answer more questions, Bunch was asked about life and homeowners' insurance she may have carried.  The single mother who struggled to keep her car insured told detectives she had no other insurance.
"We're trying to figure out the reason you would do this," police told Bunch.
Bunch denied harming her child. But officers followed her every move – to the funeral home, Tony's funeral and the cemetery.
"At that point, I'm broken but I'm angry," said Bunch.
Desperate to get police to end their constant escort, Bunch agreed to take a polygraph test.  She again denied killing her son.  After she was told she had failed the test, Bunch was arrested on murder and arson charges.
A state fire investigator told police that an accelerant had been used, such as kerosene, jet fuel or charcoal lighter fluid to start the fire in two places.
At her trial, prosecutors told the jury they did not have a motive nor were they required to provide one for the charges.
The arson investigator's opinion was backed by a forensic analyst with the U.S. Bureau of Alcohol, Tobacco and Firearms who testified that "a heavy petroleum distillate" was found in flooring from the living room and the boy's bedroom.
Bunch was convicted and sentenced to 60 years for murder and 50 years for arson.  Bunch, who was pregnant at the time of sentencing, was also told by the judge that her baby would be taken into state custody after birth.
Like Pursley, Bunch became very busy in prison.
She became an expert in fire science and worked three jobs to pay the $2,000 legal fees she needed for a local attorney to help her fight the conviction.  A letter to Northwestern's legal clinic from a Bunch supporter brought new legal firepower to the case.
The lack of a signed order from the sentencing judge allowed Bunch's family to care for her newborn son.
It would take 17 years-plus for Bunch's case to wind its way through the legal system.  On March 12, 2012, the Court of Appeals of Indiana reversed the conviction, based on evolving fire science and undisclosed ATF evidence favoring Bunch that contradicted the theory the fire started in two places.
Bunch became emotional as she recalled the truth disclosed by fire experts hired by her legal team: evidence showed the blaze was an electrical fire and the traces of kerosene were related to a stove used by a previous homeowner.
When she walked out of prison, Bunch took with her undergraduate degrees in English and anthropology from Ball State University. She now works with the Illinois Innocence Project to help train police recruits about wrongful convictions.
Exonerations in the U.S. totaled 3,411 as of November 8, said Hanlon, quoting the National Registry of Exonerations, a national database that tracks wrongful convictions dating back to 1989.
The moderators explained the six factors that contribute to exonerations.
Perjury or false accusations account for 60 percent; official misconduct, 55 percent; eyewitness misidentification 28 percent; inadequate defense 27 percent; forensic science issues 25 percent; and false confessions 12 percent.
Advancements in scientific and investigative techniques, such as DNA testing, have helped identify and reverse wrongful convictions, said Beckett.
"The innocence movement has actually shown we can improve the criminal justice system," said the veteran defense lawyer.
Hanlon cited legal requirements that police wear body cameras, interviews in murder and other high-level crimes be recorded and prohibitions against police lying to juvenile suspects as other improvements.
Still, Hanlon noted, Illinois is the only state with a Torture Inquiry and Relief Commission, a sign that more progress has yet to happen.