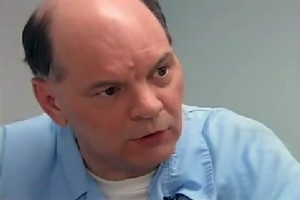 Barton McNeil was saddened in 2011 to hear of the death of Linda Tyda, a Chicago-area woman found in a shallow grave two hours north of Bloomington, Illinois, the place she was strangled and stored in a plastic tub by her daughter-in-law, Misook Nowlin, before her burial.
McNeil was also not surprised to hear that Nowlin had been arrested on murder charges in Tyda's death.
Sitting in his cell at the Menard Correctional Center in southern Illinois, McNeil said, "now ain't that just the cat's meow," when he read the news of Nowlin's arrest. McNeil believed Nowlin's arrest was long overdue—13 years overdue, by his calculation.
In 1998, McNeil was charged with killing his 3-year-old daughter Christina during her overnight stay at his Bloomington apartment. Hours after her lifeless body was found in her bed, he summoned police back to his home with what he considered potential evidence that the child had been murdered.
Small slits in a window screen, and trampled plants on the ground outside the child's bedroom window, were among the pieces of information McNeil shared with investigators to support his theory. The physical evidence, along with Nowlin's history of violence against McNeil and her own daughter were worthy of investigation, McNeil told police.
In his meeting with police, McNeil also recounted Nowlin's anger at a local restaurant in the hours preceding Christina's death after he told her their relationship was over. Police later spoke to Nowlin but kept their attention focused on Christina's father as a murder suspect.
After a four-day bench trial in which McNeil was not allowed to introduce the evidence that made  Nowlin a potential suspect, he was convicted and sentenced to 99 years. With his appeals exhausted, McNeil settled into life behind bars and what he presumed would be "death by prison."
Nowlin's arrest brought renewed attention to Christina's death. McNeil's family members rallied and made connections that led to the involvement of the Illinois Innocence Project in his post-conviction efforts. Lawyers filed a series of motions seeking additional DNA testing and a petition citing a list of possible new evidence that if considered by a jury could change the outcome of the case.
Much of the information developed by the defense team will not be argued on November 21 when McNeil's lawyers present arguments for a new trial. A previous ruling by Judge William Yoder limited the issues to alleged confessions Nowlin made to her ex-husband Don Wang and child welfare records related to her abuse of her daughter.
In a recent email to me, McNeil described his feelings ahead of the evidentiary hearing.
"Today, I don't wallow in misery when nothing can be done to change matters. I don't seek or welcome sympathy which should be reserved for a murdered child of Bloomington who found no justice in a McLean County courtroom, and for the elderly Linda Tyda whose life was the high price paid for Misook's orchestrated child-murder getaway—Tyda's murder an easily foreseen consequence thereof."
When Nowlin is called to the witness stand on Tuesday, it will be the first time that she and McNeil will be together since 1999 when she testified at his trial during an "offer of proof" hearing to discuss evidence of her possible involvement in the death. The two met one other time—in 1998 at Nowlin's bench trial on domestic battery charges accusing her of restraining McNeil from leaving with his daughter.
"Since that time – 1999—I've never again seen Misook. So, it will be weird seeing her this time," McNeil wrote. His reaction to her anticipated denial of wrongdoing may be difficult to restrain, he acknowledged.
Nowlin's former husband Don Wang and her daughter Michelle may also testify about a confession Nowlin allegedly made to killing Christina.
McNeil is realistic about his odds of receiving a positive ruling on the narrow issues. His lawyers are certain to appeal Yoder's dismissal of all or portions of the petition for a new trial. Depending upon the outcome of a ruling by the 4th District Appellate Court, the Illinois Supreme Court could be asked to review the case.
Many more months could pass before a final decision is reached.
McNeil, now 64, has been incarcerated 9,284 days, the website freebart.org noted on Friday.
McNeil's cousin and champion of his exoneration efforts, Chris Ross, started the website to track decisions and potential new evidence in McNeil's case.  On Tuesday, he plans to travel from California to Bloomington for the hearing.  Other supporters expected at the proceedings include former exonerees Alan Beaman who was cleared of a murder in Normal, and Curtis Lovelace, a former prosecutor exonerated in the death of his wife in Quincy.