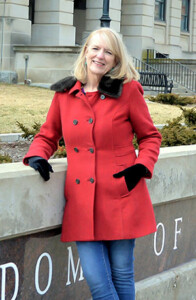 ​Edith began her career as a reporter with The DeWitt County Observer, a weekly newspaper in Clinton, Illinois.  A collaboration between the small town paper and the Chicago Daily News on allegations of abuse against a county sheriff drew the attention of Time Magazine and earned the two papers numerous awards, including the Peter Lisagor Award from the Chicago Headline Club and the Joseph P. McGuire Award from the ACLU.  She also has worked as a reporter for The San Clemente (California) Sun-Post and the Midland (Michigan) Daily News.
Edith's work has appeared in Orange County Illustrated, Orange Coast Magazine, Illinois Magazine and Illinois Times.​
From 2007 to June 2019, Edith covered crime and legal issues for The Pantagraph, a daily newspaper in Bloomington, Illinois. She previously worked as a correspondent for The Pantagraph covering courts and local government issues in central Illinois.
Edith's work has been nationally recognized by Mental Health America for her extensive coverage of mental health issues in the criminal justice system. She also has received numerous awards from the Associated Press and Illinois Press Association, including the Abraham Lincoln Media Award for legal writing.
Edith is a journalism fellow at the Center on Crime, Media and Justice, John Jay College in New York.  Her work with the center includes projects on juvenile justice, mental health and re-entry issues for incarcerated individuals. Her work has been published online on The Crime Report and distributed by The Associated Press.
In addition to her work as a journalist, Edith serves as Media Coordinator for the Extended Media program for the Eleventh Judicial Circuit in central Illinois. The program provides the media with photos and audio recordings of court proceedings through rules approved by the Illinois Supreme Court.
In June 2018, Edith was awarded top honors in Illinois and the Central Region of the Daughters of the American Revolution for an essay she authored on Women's Issues. In 2019, she was the recipient of the DAR's top honors for Illinois essayists.
Donation to the Vespasian Warner Library
Edith's early work with the DeWitt County Observer is chronicled in a bound volume of 1978 issues of the weekly newspaper she donated to the Vespasian Warner Library  on Sept. 3, 2019.  The newspaper issues will be a resource for genealogists and local historians for years to come. The volume was given to Edith by her close friend and talented journalist, the late Janeen Burkholder.